In a not completely unexpected move Samsung Mobile announced that it would be working with NVIDIA on two different projects. First and foremost is the Samsung Galaxy Tab 10.1. This 10.1" Honeycomb tablet uses NVIDIA's Tegra 2 SoC (just like LG's Optimus Pad and Motorola's Xoom). The big news isn't the fact that it's a 10-inch Android tablet, but that it's not using a Samsung SoC.
As the reference platform for Honeycomb, NVIDIA's Tegra 2 makes a lot of sense for Samsung. The fact that Samsung went from reference platform for Gingerbread to having to partner with NVIDIA on Honeycomb doesn't bode very well for its SoC team.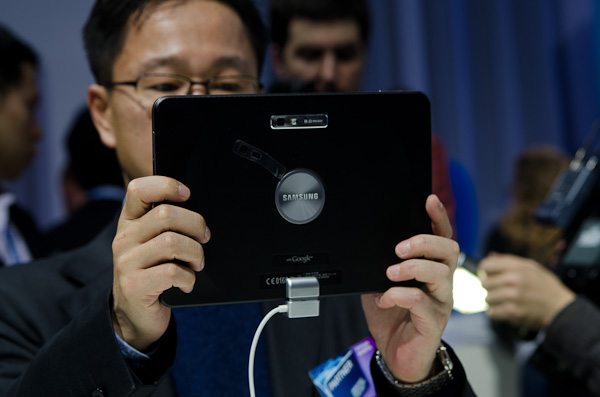 I had the opportunity to play around with the Galaxy Tab 10.1 after Samsung's press conference. If you've ever used a Galaxy S phone like the Fascinate you'll know that it feels: 1) plasticky, 2) light and 3) just a little cheap. The Galaxy Tab 10.1 is like a giant Fascinate, but it doesn't feel all that cheap to me - just light.
The weight is comfortable, especially coming from an iPad. The OS is responsive however I get the impression that Honeycomb is still a bit early. Despite GPU acceleration everywhere I noticed some choppy scrolling and laggy transitions. The unit I was playing with even managed to reboot in the middle of me messing with the camera. These are all issues you'd expect from pre-release software so I'm not too concerned.
I think it's still too early to tell how well these Honeycomb tablets will do in the market. I need to see final software to get a better idea. Soon enough I hope...
The Galaxy S II
Despite turning to NVIDIA for the Galaxy Tab 10.1 (and an unannounced future Samsung superphone), Samsung did introduce the Galaxy S II based on an unnamed SoC (the assumption is that it's Samsung's own Orion SoC).
The Galaxy S II features a 4.3" Super AMOLED Plus display (full stripe matrix, not PenTile) with what appears to be a 800 x 480 resolution. The phone measures only 8.49mm thick and weighs a meager 116g. That's 85% the thickness and 91% of the weight of a Samsung Fascinate.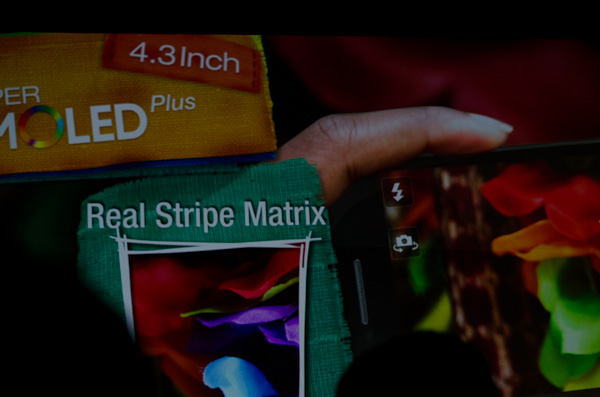 Inside the Galaxy S II is a dual-core (Cortex A9) SoC running at 1GHz. A 4-core GPU (Update: we listed a 4-core PowerVR SGX 544 earlier, which is incorrect) and a HSPA+ 21Mbps modem. Powering all of this is a 1650mAh battery, a 10% increase in battery capacity vs. the Samsung Fascinate.
The Galaxy S II supports NFC, 1080p30 recording and playback and features a 8MP rear facing camera with LED flash. On the front you've got a 2MP camera. WiFi Direct is also supported, which will be used to enable wireless syncing to your desktop over WiFi.
Samsung includes the latest version of its TouchWiz UI (4.0), which includes an entire suite of remote location and theft recovery tools. You can remotely locate your phone, lock it and of course track it all on the web. You can also have your phone SMS you if someone swaps out the SIM as well as remotely monitor what calls are made with the phone.
Rounding off the list of supported features are a 3-axis gyroscope and accelerometer. Samsung also boasts hardware encryption on the Galaxy S II but it wasn't clear in what sense (perhaps real time NAND encryption?).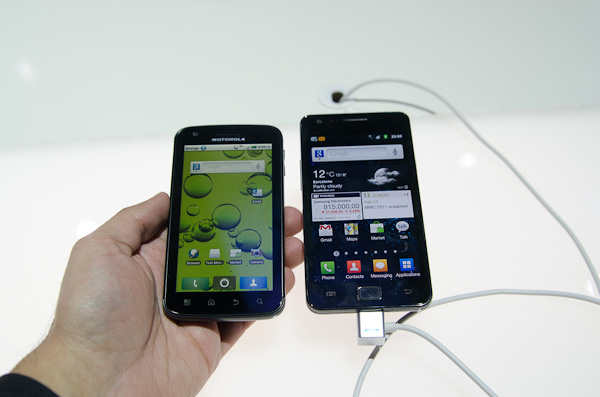 Motorola Atrix 4G (left) vs. Samsung Galaxy S II (right)
I spent some time with the Galaxy S II after Samsung's press conference and I can confirm that it is both very thin and very fast. The Galaxy S II will launch with Gingerbread and as a result scrolling through apps is smoother than even on the Tegra 2 based Atrix 4G.
Overall the Galaxy S II felt like a slightly faster, slightly smoother Atrix 4G. We'll have to get one in house to really pit it up against NVIDIA's flagship. The Gingerbread advantage is undeniable though.