Conclusion & First Impressions
Coming into Arm's GPU briefing, the company's engineers had first noted that they're expecting a more significant boost in performance and efficiency for this generation, and had admitted that the G78 last year wasn't as large a leap due to timing constraints.
In general, while the G710 is offering some very solid performance figures that are coming in at +20% performance and efficiency, given the context of Arm's current Mali GPU performance in chipsets such as Samsung's Exynos, HiSilicon's Kirin or MediaTek's Dimensity, that's still not a very large leap in terms of the competitive positioning at the very high-end of the market, which admittedly is what caters the most media attention and generally what we are most enthusiastic about.
Lacking a larger magnitude shift or step-function upgrade, Arm's high-end prospects in the coming year don't look very great: With HiSilicon being effectively cut off from the rest of the semi ecosystem, and with Samsung having confirmed their shift to AMD RDNA GPUs in the next generation of Exynos GPUs, this only leaves MediaTek as the last "big" mobile Mali licensee. MediaTek is actually doing very well and picking up market share in the market gap that HiSilicon has left behind, but they have never truly really gone for the flagship segment for SoCs or for big GPU designs. It very well may be that we simply won't see a high-end Mali-G710 implementation.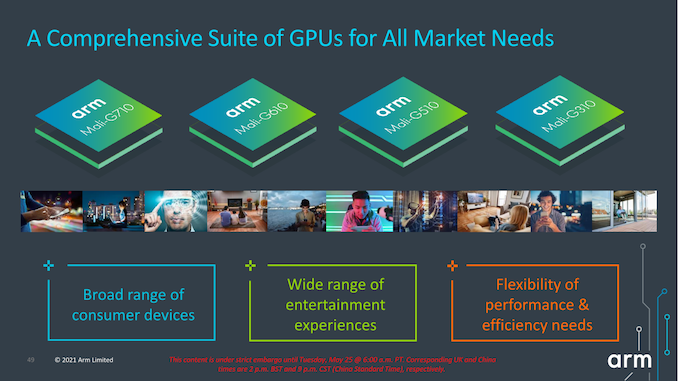 Arm's Mali GPU design philosophy had always been a double-edged sword, particularly because they're trying to cater for such a wide market with a very similar microarchitecture. While the high-end looks quite bleak because of this, the mid-range and now the low-end look extremely promising.
The new Mali-G510 and G310 GPUs are extremely large generational upgrades with quite massive performance upgrades. Arm had stated that they've shipped over a billion Mali GPUs in 2020, with metrics such as 80% market-share in DTV and 50% market-share in smartphones. The new mid-range and low-end GPUs are poised to continue to offer extremely strong offerings in those segments. If those DTV market-share numbers are accurate, it also means that Arm has managed to gain a significant amount of market share from Imagination, the only other surviving GPU IP vendor. The new more comprehensive mid-range and low-end series are poised to further strengthen and maintain those gains in those markets.