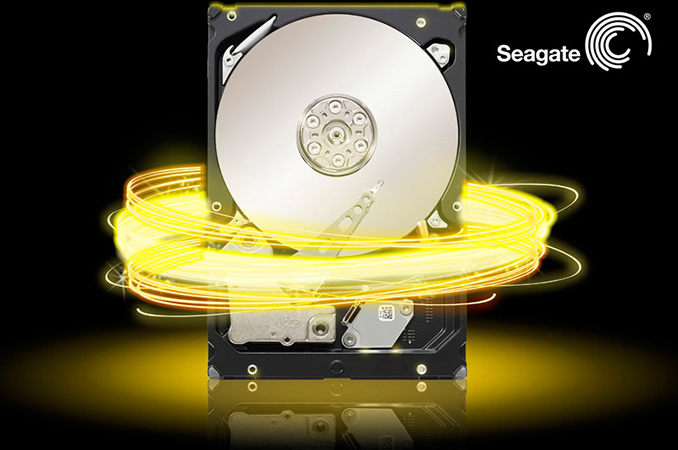 Seagate last week clarified its high-capacity HDD roadmap during its earnings call with analysts and investors. The company is on track to ship its first commercial HAMR-based hard drives next year, but only in the back half of the year. Before that, Seagate intends to ship its 18 TB HDDs.
It is expected that Seagate's 18 TB hard drive will be based on the same nine-platter platform that is already used for the company's Exos 16 TB HDD, which means that it will be relatively easy for the company to kick off mass production of 18 TB hard drives. Overall, Seagate's HDD roadmap published in September indicates that the company's 18 TB drive will use conventional magnetic recording (CMR) technology. In addition to this product, Seagate's plans also include a 20 TB HDD based on shingled magnetic recording (SMR) technology that is due in 2020.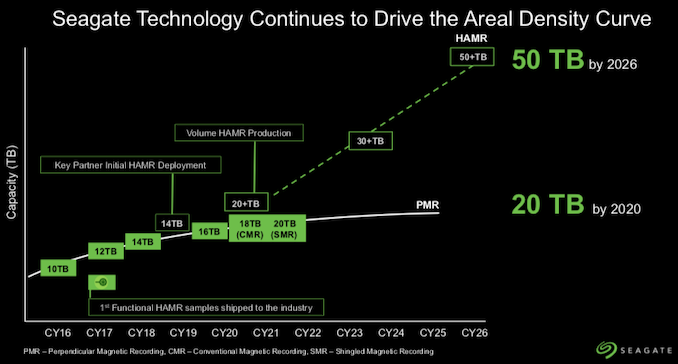 Seagate says that its Exos 16 TB hard drives are very popular among its clients and even expects to ship more than a million of such drives in its ongoing quarter, which ends in December. The launch of its 18 TB HDD will maintain Seagate's capacity leadership in the first half of next year before Western Digital starts volume shipments of its HAMR+CMR-based 18 TB and HAMR+SMR-based 20 TB hard drives.
Seagate itself will be ready with its HAMR-based 20 TB drive late in 2020. Right now, select Seagate customers are qualifying HAMR-based 16 TB HDDs, so they will likely be ready to deploy 20 TB HAMR drives as soon as they are available. It is noteworthy that Seagate is readying HAMR HDDs with both one and two actuators, as to offer the right performance and capacity for different customers. This would follow Seagate's current dual-actuator MACH.2 drives, which the company started shipping for revenue last quarter.
Dave Mosley, CEO of Seagate, said the following:
"We are preparing to ship 18 TB drives in the first half of calendar year 2020 to maintain our industry capacity leadership. We are also driving areal density leadership with our revolutionary HAMR technology, which enables Seagate to achieve at least 20% areal density CAGR over the next decade. We remain on track to ship 20 TB HAMR drives in late calendar year 2020.

As drive densities increase, multi-actuator technology is required to maintain fast access to data and scale drive capacity without compromising performance. We generated revenue from our MACH.2 dual actuator solutions for the first time in the September quarter. We are working with multiple customers to qualify these drives, including a leading US hyperscale customer, who is qualifying the technology to meet their rigorous service level agreements without having to employ costly hardware upgrades. We expect to see demand for dual actuator technology to increase as customers transition to drive capacities above 20 TB."
Related Reading:
Source: Seagate