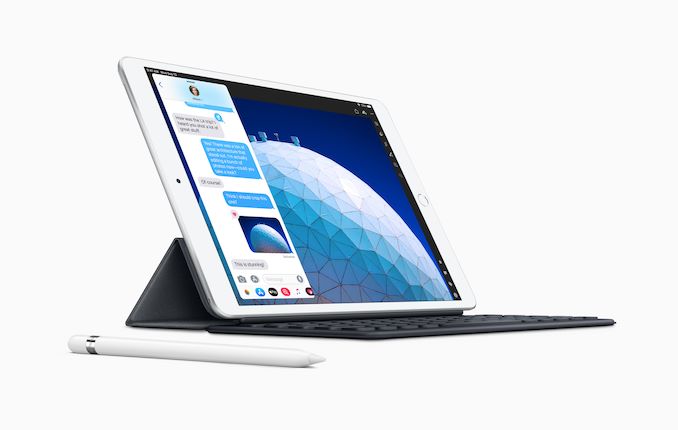 Today in a surprise announcement, Apple has unveiled refreshes to both the iPad Air and iPad mini lineups. The last releases in the lineups were the iPad Air 2 and iPad mini 4 back in 2015. We had thought Apple had abandoned the models, yet today's release now breathes fresh air into the devices with much needed internal hardware upgrades as well as new functionality.
Apple iPad Comparison
iPad Air 2
iPad mini 4
iPad Air (2019)
iPad mini (2019)
SoC
Apple A8X

3 x Typhoon @ 1.5GHz
Apple A8

2 x Typhoon @ 1.5GHz
Apple A12 Bionic

2 × Vortex @ 2.5GHz
4 × Tempest @ 1.59GHz
Display
9.7" 2048x1536 IPS LCD
7.9" 2048x1536 IPS LCD
10.5" 2224x1668
IPS LCD

DCI-P3, True Tone
7.9" 2048x1536
IPS LCD

DCI-P3, True Tone
Dimensions
240 x 169.5
x 6.1mm

437g
203.2 x 134.8
x 6.1mm

298.8g
250.6 x 174.1
x 6.1mm

456g / 464g
203.2 x 134.8
x 6.1mm

300g / 308.2g
RAM
2GB LPDDR3
2GB LPDDR3
?
?
NAND
16 / 64 / 128GB
64 / 256GB
Battery
27.3Wh
19.1Wh
30.2Wh
19.1Wh
Front Camera
1.2MP, F/2.2
7MP, F/2.2
Rear Camera
8MP, F/2.4, 1.1 micron
8MP, F/2.4
Cellular
2G / 3G / 4G LTE (Category 9)
UE Category 16 LTE (1Gbps) with 4x4 MIMO and LAA
SIM Size
NanoSIM
NanoSIM + eSIM
Wireless
802.11a/b/g/n/ac 2x2 MIMO,
BT 4.2 LE, GPS/GLONASS
802.11a/b/g/n/ac 2x2 MIMO,


BT 5.0 LE, GPS/GLONASS

Connectivity
Apple Lightning
3.5mm headphone
Apple Lightning


3.5mm headphone

Launch OS
iOS 9
iOS 12
Launch Price
$499 (16G)
$599 (64G)
$699 (128G)
(Wifi / Cellular)

$399/$529 (16G)
$499/$629 (64G)
$599/$729 (128G)
(Wifi / Cellular)

$499/$629 (64G)
$649/$779 (256G)
(Wifi / Cellular)

$399/$529 (64G)
$549/$679 (256G)
On the internal hardware side, both the new iPad Air (2019) and the new iPad mini (2019) make use of Apple's new 7nm A12 chipset, which we've already seen in the iPhone XS and XR models. The A12X's increased performance thus remains exclusive to the iPad Pro models this year.
The new iPad mini doesn't change its design from its predecessor, which might not be to everybody's liking in 2019 as the rather big bezels do feel a bit out of place compared to other newer tablets. While the design hasn't seen an update, the 7.9" 2048x1536 IPS display will see some significant changes as it now supports Display P3 as well as True Tone.
The new iPad Air on the other hand does see significant design changes with a slight reduction in bezels, offering more screen estate. The new display comes now in a 10.5" diameter and increases the resolution to 2224x1668. Similarly to the new iPad mini, it also now supports P3 wide gamut content as well as True Tone.
The new Air is ever so slightly bigger than its predecessor, being 10mm taller, 4.6mm wider and 19g heavier. The new battery does increase from 27.3Wh to 30.2Wh.
Interestingly both devices still come with the home button and its capacitive fingerprint sensor, as well as 3.5mm headphone jack (not that we're complaining), so this is probably Apple's purest hardware-only refresh ever.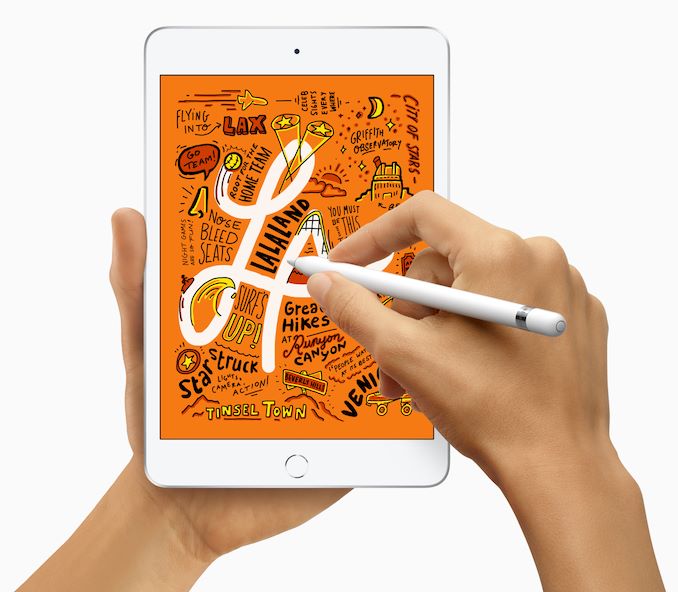 The one single big new feature about the new iPads is that the devices are now compatible with the Apple Pencil. It's to be noted we're talking about the first generation Pencil, and not the second-generation unit we find in 2018's new iPad Pros.
Overall, it's interesting to see Apple refresh the iPad line-up, especially the often forgotten iPad mini. Apple's reluctance to make any major design changes to the products, even 4 years on is quite odd, but then again if it isn't broken, don't attempt to fix it.
The new iPad mini and iPad Air come in 64 and 256GB variants, starting at $399 for the iPad mini and $499 for the iPad Air. The extra storage costs you $150, and added cellular connectivity adds another $130.
Related Reading