Coffee Lake with Iris Plus at 28W
Intel recently announced its 'Intel Core with Radeon RX Vega' processor line, featuring a H-series processor combined with an AMD graphics chip and a sizeable amount of high-speed HBM2 memory connected via Intel's proprietary EMIB technology. These parts are designed to service the high-end for integrated graphics, going above and beyond any other integrated graphics solution in the past. That used to be a post held by Intel's processors that used eDRAM, using the Iris, Iris Pro, and Iris Plus branding. Now the Iris line sits in the middle, acting as Intel's graphics focused products in the mid-power range.
For the launch today, Intel is lifting the lid on four separate Iris Plus-based processors. These all use the Coffee Lake microarchitecture and are built on Intel's 14++ process. All four of these processors are in Intel's 'GT3e' graphics configuration, which uses Intel's Gen 9.5 graphics with 48 execution units (EUs) and 128 MB of eDRAM. This is compared to the GT2 configurations seen on most other processors, that have 24 EUs and zero eDRAM.
AnandTech
Cores
Base
Freq
Turbo
Freq
L3
vPro
DRAM
DDR4
iGPU
EUs
iGPU
Freq
Core i7-8559U
$431
4 / 8
2.7
4.5
8 MB
No
2400
48 EUs
300 / 1200
Core i5-8269U
$320
4 / 8
2.6
4.2
6 MB
No
2400
48 EUs
300 / 1100
Core-i5-8259U
$320
4 / 8
2.3
3.8
6 MB
No
2400
48 EUs
300 / 1050
Core i3-8109U
$304
2 / 4
3.0
3.6
4 MB
No
2400
47 EUs
300 / 1000
Intel has split these new CPUs up into a single Core i7-8559U, which is a quad-core processor with the most L3 cache, two Core i5 parts that are also quad-core but have reduced L3 cache, and a Core i3-8109U processor that is dual core, but with the same amount of L3 cache per core as the Core i7-8559U.
In Intel's manufacturing parlance, this means that the Core i7 and Core i5 are all '4+3e' units, meaning four cores and GT3 graphics with eDRAM. By contrast, the Core i3 is a '2+3e' processor, with only two cores but the same GT3e graphics with eDRAM as the i7/i5. Based on the design of these processors, the Core i3 sits as the lower binned part: it is manufactured as a 4+3e design, but due to processor defects is only suitable to run two cores. As with most of the other mobile processors, the higher performance parts often get the highest frequency graphics as well. In this case, the Core i7-8559U sits at the top at 1200 MHz.
For the eDRAM, in previous generations Intel has moved from going all parts at 128 MB to having some move down to 64 MB, but now moves back up to all of them having 128 MB again. For the eDRAM implementation, Intel is still using their second generation eDRAM implementation whereby the eDRAM acts as a L4 buffer for supplying the L3 from DRAM through the System Agent – this is compared to the first generation where the eDRAM was a victim cache. This methodology allows the eDRAM to speed up more use cases than just graphics, and the 50 GBps bidirectional bandwidth is certainly a big leap over main DRAM bandwidth (that some OEMs run in single channel mode anyway). Iris Plus processors can also be equipped with discrete graphics, although this is up to the OEM.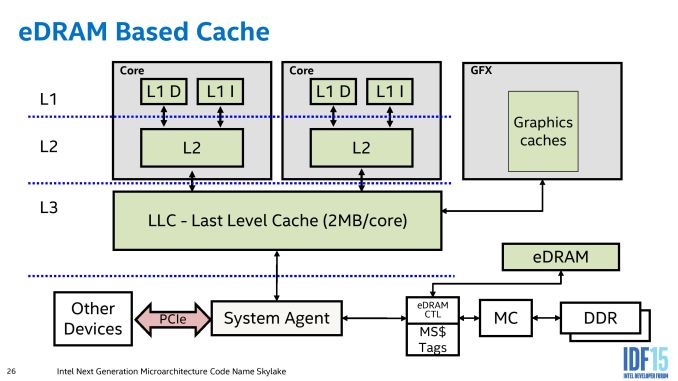 The 28W Iris Plus processors will match the other mobile counterparts on chipset, and support the new features such as integrated Intel 802.11ac Wi-Fi and native USB 3.1 (10 Gbps) support. We do not know to what extent these are supported, and are waiting on more information. The Iris Pro parts will also support Optane-accelerated storage.