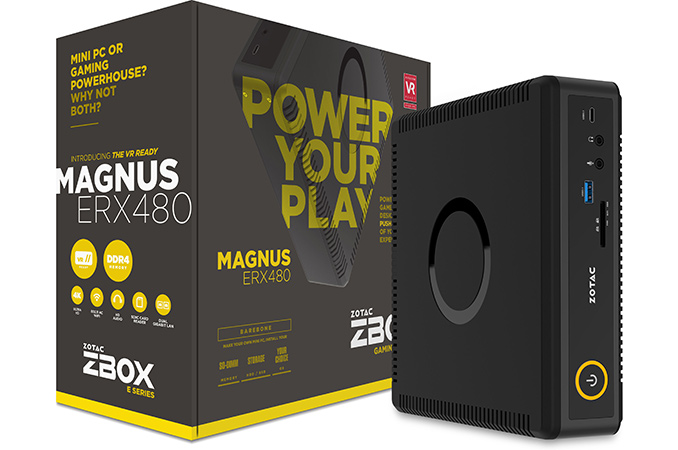 ZOTAC has introduced a new small form-factor system that integrates AMD's Radeon RX 480 graphics as well as an Intel quad-core Core i5-6400T. The compact PC is designed to drive up to four 4K displays at once and can be used both for gaming as well as for productivity applications that demand multiple monitors. In fact, the manufacturer officially positions the system as an entry-level machine for VR gaming.
The ZOTAC ZBOX MAGNUS ERX480 PC is powered by Intel's Core i5-6400T processor (4C/4T, 2.2 GHz/2.8 GHz, 6 MB LLC cache, 35 W TDP) as well as a custom LGA1151 motherboard with two slots for DDR4-2133 SO-DIMM memory. AMD's Radeon RX480 MXM module, one M.2-2280 slot for a SATA SSD, a SATA connector, two Gigabit Ethernet controllers, a 802.11ac Wi-Fi/BT 4.2 module and a USB 3.1 controller make up the other key features.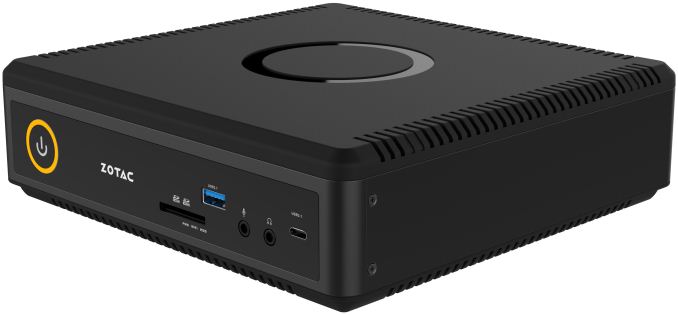 When it comes to connectivity, the ZBOX MAGNUS ERX480 is an example of reasonable set of I/O ports. The system features two HDMI 2.0, two DisplayPort 1.3, two GbE, two 3.5mm audio, two USB 3.0, two USB 2.0, one USB 3.1 Gen 2 Type-A and one USB 3.1 Gen 2 Type-C connectors. In addition, the PC has a 3-in-1 card reader (SD/SDHC/SDXC UHS II). Users with 5.1- or 7.1-channel speaker systems will have to use an external USB audio solution however.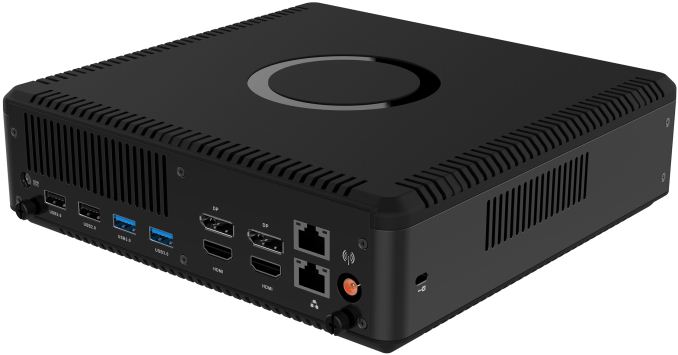 From performance point of view, the ZBOX MAGNUS ERX480 meets the minimum requirements that Oculus VR set for games compatible with the Oculus Rift VR headset back in the first half of 2015: it has a quad-core CPU along with AMD's Radeon RX 480 GPU, supports up to 32 GB of DDR4 memory and can be equipped with 2 drives (1x M.2 and 1x 2.5"). If game developers follow recommendations of Oculus VR, the MAGNUS ERX480 should run VR titles for Oculus VR with decent framerate.
ZOTAC ZBOX MAGNUS ERX480 Specifications
ZBOX MAGNUS
ERX480
(barebones)
ZBOX MAGNUS
ERX480 PLUS
(w/ DRAM+M.2)
ZBOX MAGNUS
ERX480 WINDOWS
(w/ DRAM+M.2)
CPU
Intel Core i5-6400T (4 cores, 2.2 GHz/2.8 GHz, 6 MB LLC, 35 W)
PCH
unknown 100-series
Graphics
AMD Radeon RX480 at 1050 MHz:
2304 stream processors
144 texture units
32 ROPs
256-bit memory interface
4 GB of GDDR5 7 GT/s memory
Memory
Two SO-DIMM slots, up to 32 GB of DDR4-2133
8 GB of DDR4-2133 (one module)
Storage
M.2 SATA
1x SATA 6 Gbps 2.5"
120 GB M.2 SATA SSD
1 TB 2.5" HDD
Wi-Fi
802.11ac + BT 4.2
Ethernet
Two Gigabit Ethernet with RJ45 connector
Display Outputs
2 × HDMI 2.0
2 × DisplayPort 1.2
Audio
3.5 mm audio in and audio out
USB
2 × USB 2.0 Type-A (480 Mbps)
2 × USB 3.0 Type-A (5 Gbps)
1 × USB 3.1 Type-A (10 Gbps)
1 × USB 3.1 Type-C (10 Gbps)
Other I/O
3-in-1 card reader (SD/SDHC/SDXC UHS II)
Dimensions
210 mm × 203 mm × 62.2 mm
8.27 × 7.99 × 2.45 inches
PSU
External
OS
-
Windows 10 Home
Speaking of dimensions, it should be noted that like other MAGNUS-series PCs, the ERX480 is not as tiny as Intel's NUC, but it is not as large as some other models in Zotac's lineup. The relatively small size of the new compact PC from ZOTAC is a result of the company's decision to use relatively low-power components (the manufacturer claims that the power draw of the ERX480 is 160 W) and air-cooling. We do not know whether the PC gets noisy under high loads, but this is a possibility as the system uses two blowers.
ZOTAC traditionally plans to offer three versions of the MAGNUS ERX480: a barebones with just the CPU and GPU installed; a Plus version with a 8 GB DDR4 memory module, a 120 GB SATA M.2 SSD as well as 1 TB HDD; and a Windows edition with DRAM, storage and Windows 10 Home operating system pre-installed. The manufacturer does not disclose its MSRPs at this time, but claims that all the PCs will be available by the end of November.
Related Reading:
Source: ZOTAC