Future Visions: POWER8 with NVLink
Digging a bit deeper, the shiny new S822LC is a different beast. If offers the "NVIDIA improved" POWER8. The core remained the same but the CPU now comes with NVIDIA's NVlink technology. Four of these NVLink ports allows the S822LC to make a very fast (80 GB/s full duplex) and direct link with the latest and greatest of NVIDIA GPUs: the Tesla P100. Ryan has discussed NVLink and the 16 nm P100 in more detail a few months ago. I quote:
NVLink will allow GPUs to connect to either each other or to supporting CPUs (OpenPOWER), offering a higher bandwidth cache coherent link than what PCIe 3 offers. This link will be important for NVIDIA for a number of reasons, as their scalability and unified memory plans are built around its functionality.
Each P100 has a 720 GB/s of memory bandwidth, powered by 16 GB of HBM2 stacked memory. If you combine that with the fact that the P100 has more than twice the processing power in half precision and double precision floating point (important for machine learning algorithms) than its predecessor, it easy to understand why the data transfers from the CPU to GPU can easily become a bottleneck in some applications.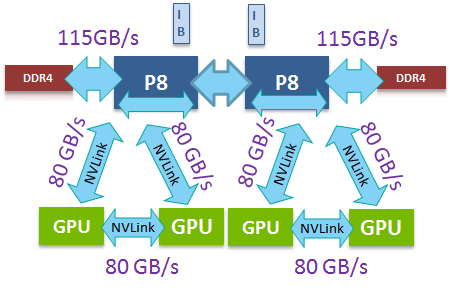 This means that the "OpenPOWER way of working" has enabled the IBM POWER8 to be the first platform to fully leverage the best of NVIDIA's technology. It is almost certain that Intel will not add NVLink to their products, as Intel went a totally different route with the Xeon and Xeon Phi. NVLink offers 80 GB/s of full-duplex connectivity per GPU, which is provided in the form of 4 20GB/s connections that can be routed between GPUs and CPUs as needed. By comparison, a P100 that plugs into an x16 PCIe 3.0 slot only gets 16 GB/s full duplex to communicate with both the CPU and the other GPUs. So theoretically, a quad NVLink setup from GPU to CPU offers at least 2.5 times more bandwidth. However, IBM claims that in reality the advantage is 2.8x as the NVLink is more efficient than PCIe (83% of theoretical bandwidth vs. 74%).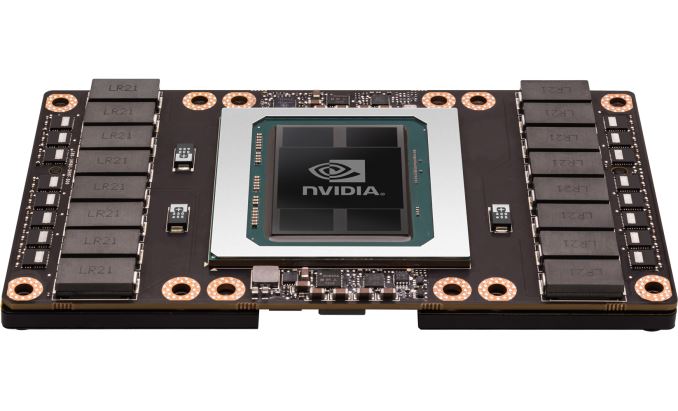 The NVLink equipped P100 cards will make use of the SXM2 form factor and come with a bonus: they deliver 13% more raw compute performance than the "classic" PCIe card due to the higher TDP (300W vs 250W). By the numbers, this amounts to 5.3 TFLOPS double precision for the SXM2 version, versus 4.7 TFLOPS for the PCIe version.