Recent Developments: OpenPOWER's Potential HPC Comeback
Those who suggested that IBM's scale out servers were just a half-hearted effort that would quickly get strangled by the desire to protect the high margin big iron servers could not have been more wrong. IBM just launched 3 new servers, and all of them are affordable scale out servers. IBM is now very aggressively going after the market it has (almost) completely lost to Intel's Xeon: HPC. At the same time IBM is emphasizing the determination to play an important role in the emerging "machine learning" and "Big Data" market.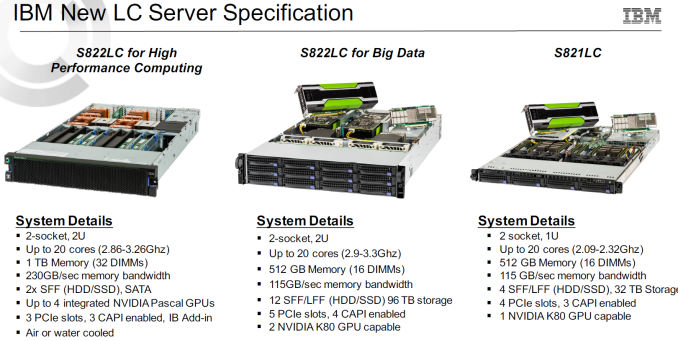 The S822LC "Big Data" and S821LC use mature and proven – some would say "older" – technology: the "OpenPOWER version" of the POWER8 and NVIDIA's Tesla K80. There are some interesting new facts to discuss though. First of all, these servers are made by Supermicro, confirming the close relation between the two companies and that OpenPOWER is indeed "Open". Supermicro is the market leader in the HPC market, and the fact that Supermicro chose to invest in OpenPOWER is a promissing sign: IBM is on to something, it is not another "me too" effort.
Secondly, these servers use (registered) DDR4 RAM as opposed to DDR3 as found in servers like the S812LC and SL822. Since they are still communicating via the "Centaur" memory buffers, this will not give any tangible performance boost, but it means that the servers are making use of the most popular and thus cheapest server memory technology.
The 2U S822LC "Big Data" looks like a solid offering. Pricing starts at $5999 (one 3.3 GHz 8-core, 64 GB RAM, no GPU), but realistically a full equipped server (two 10-cores, one K80, 128 GB) is around $16000. If you do not need the GPU, a server with two 10-cores, 256 GB, 2x 10 GB and two 1 TB disks costs around $13341. The CPU inside is still the 190W TDP single chip 10-core (at 2.9-3.5 GHz boost) that we tested a while ago. There is also an 8-core (3.3 - 3.7 GHz boost) alternative.
The 1U S821LC starts at $5900. The 1U form factor limits the POWER8 to much lower power envelopes. The 8-core chip runs at 2.3 GHz (135W TDP), the 10-core is allowed to consume a greater 145W, but runs at a meager – for POWER8 standards – 2.1 GHz. We can imagine that this is indeed based upon the customer feedback of space constrained datacenters, as IBM claims. We feel however that it makes the S821LC server less attractive as one of the distinguishing features of the POWER8 is the high single threaded performance. The POWER8 was simply not designed to run inside a 1U server. On the other side of the coin, a 2.1 GHz 10-core might still be fast enough to feed the GPU with the necessary data in some HPC applications.