ASUS UX31A: Meet Today's Best Ultrabook
After having reviewed and handled nearly a dozen Ultrabooks during the past year, the flaws with the platform have become glaringly obvious. The requirements for Ultrabooks are that they need to be very thin, they need to use an Intel ULV CPU, they must deliver decent battery life (5+ hours, though the load isn't specified), and they have to use some form of solid state storage. There are some other elements of Ultrabooks as well, but Intel doesn't seem to enforce those all that much—pricing details for example are nebulous; at one point they were supposed to start at under $1000, but now it looks like that means each manufacturer only needs one model that starts somewhere under $1000. For the intended market (on-the-go users), most of the requirements look fine, but the solid state requirement needs a bit more elaboration.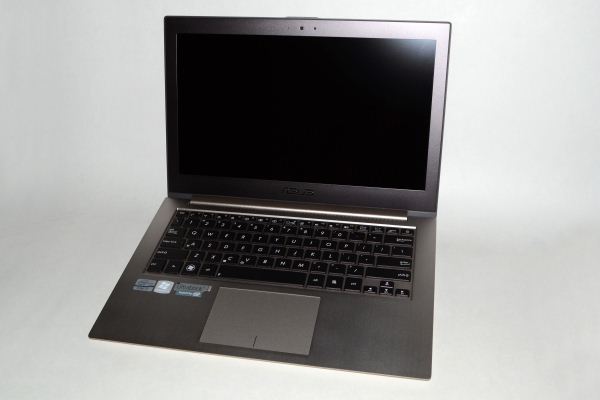 If you've had the chance to use a modern laptop with an SSD as the primary storage, you know how much of a difference it can make. Boot times are faster, but more importantly all of the post-boot utility and application initialization that can really get in the way of using a laptop. Long-term the differences become even more noticeable, as hard drive performance can become severely degraded with fragmentation; with a good SSD fragmentation shouldn't be a problem. Throw in an active anti-virus scanner along with other software and utilities and it becomes very painful to go back to conventional storage. All of that is what makes an SSD great for storage, but there's a problem with Ultrabooks: SSDs aren't strictly required.
What Ultrabooks are required to have is some form of solid state storage, but that ranges from a dedicated SSD to smaller caching SSDs to laptops that only appear to use the SSD for the hibernation file. SSD caching certainly helps performance, but the problem is that with a default Windows 7 installation sucking up roughly 30GB of space, toss in a few common applications like Office and your web browser and you can easily exhaust the size of the SSD cache. These days, there's not even really that much of an advantage in terms of pricing if you go with a 32GB SSD cache—hard drive prices are still quite high after the Thailand flooding, so the cost of a typical 500GB HDD with 32GB mSATA SSD is going to be pretty comparable to that of a 128GB dedicated SSD. Sure you get a lot more storage with a hard drive, but for Ultrabooks I have a difficult time believing most users are going to need a ton of storage, and I'd happily give up raw capacity for the overall responsiveness of an SSD.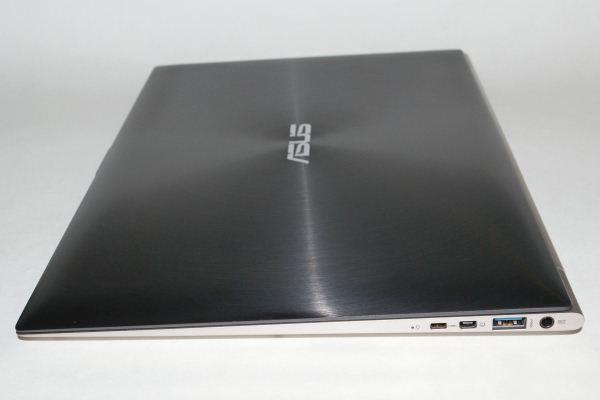 With that sidebar out of the way, ASUS delivers the UX31A in a variety of configurations. If you're trying to save a buck and get under that mystical $1000 barrier, it's difficult to include a 1080p IPS display with an i7 CPU, a dedicated SSD, and plenty of RAM; not surprisingly it's precisely those areas where ASUS makes some compromises. The least expensive UX31A models come with a 1600x900 TN panel (likely the same panel that ASUS used in the previous generation UX31E), an i5-3517U CPU, and a 128GB SSD; thankfully, ASUS doesn't ditch dedicated SSDs on the lower cost models, but they do standardize on 4GB DDR3-1600 for all UX31A models and that might be too little for some people. Right now you can find the base model UX31A-R5102H going for $950 online with the 1600x900 TN panel. For our review unit, ASUS shipped us their highest-spec UX31A-DB71, which has all the currently available upgrades.
ASUS UX31A-DB71 Specifications
Processor
Intel i7-3517U
(Dual-core 1.90-3.00GHz, 4MB L3, 22nm, 17W)
Chipset
HM76
Memory
4GB (2x2GB) DDR3-1600 Elpida
Note: RAM is soldered onto motherboard
Graphics
Intel HD 4000
(16 EUs, up to 1150MHz)
Display
13.3" WLED Matte 16:9 1080p (1920x1080)
(Chi Mei Innolux N133HSE-EA1)
Storage
256GB ADATA XM11 SSD
Note: Proprietary ASUS connector
Optical Drive
N/A
Networking
802.11n WiFi (Intel Advanced-N 6235)
Bluetooth 4.0 (Intel)
Audio
Realtek ALC269
Stereo Speakers
Headphone jack
Battery/Power
6-cell, 7.4V, ~6840mAh, ~50Wh
45W Max AC Adapter
Front Side
N/A
Left Side
Memory Card Reader
Headphone jack
1 x USB 3.0
Right Side
Mini-HDMI
Mini-VGA
1 x USB 3.0 (with Charging)
AC Power Connection
Back Side
Exhaust vent (under hinge)
Operating System
Windows 7 Home Premium 64-bit
Dimensions
12.8" x 8.78" x 0.11-0.71" (WxDxH)
(325mm x 223mm x 3-18mm)
Weight
2.86 lbs (1.3kg)
Extras
HD Webcam
82-Key Backlit Keyboard
Flash reader (MMC /SD)
USB 2.0 Fast Ethernet adapter
Mini-VGA to VGA adapter
Warranty
2-year limited international warranty (varies by country)
Price
Starting at $1434 online (8/27/2012)
The core design for the various UX31A models is identical, but the DB71 model comes with a 256GB SSD (an ADATA model with SF-2281 hardware), Core i7-3517U CPU, and a 1080p IPS display. There are a few other in-between models that offer some combination of the i7 CPU, the 256GB SSD, and the 1080p IPS display, but if you want all three you'll end up paying quite a large premium. The MSRP for the DB71 appears to be $1499 and the cheapest we could find it at the time of writing is $1434, putting it squarely into the realm of high-end Ultrabooks. I've already stated that this is the best Ultrabook that I've laid hands on, and that's a great starting point, but I have to be honest: even $1400 is more than I think most people are willing to pay, especially with only 4GB of non-upgradeable RAM. Unfortunately, the SSD is also basically non-upgradeable, as ASUS uses a proprietary form factor, so you're pretty much stuck with what you order (or the possibility of upgrading to the 256GB SSD if you can find this one). That being the case, if you're set on purchasing a current generation Ivy Bridge Ultrabook, ASUS' UX31A-DB71 is the one I'd recommend.
Most of the remaining elements are common among Ultrabooks—the Core i5 and i7 CPUs are the primary choices, with the latter offering slightly better performance for another healthy price premium. You get two USB 3.0 ports, and ASUS goes with the slightly cheaper HM76 chipset (rather than the more power efficient—in theory—UM77). Other than the general design and aesthetic, the standout item is the 1080p IPS display. I'll let you know right now that it's not perfect, but it's so much better than any other Ultrabook display that it might as well be. 1080p in a 13.3" display is already incredibly difficult to find (Sony's VAIO Z is about the only other 13" 1080p laptop that springs to mind), but to get IPS as well puts it in a category all on its own. The DPI is actually on the too-small side for Windows 7, so you pretty much have to use Windows' DPI scaling (125% Medium is the default)—unless you happen to have eagle eyes I suppose.