Introducing the HP dm1z
HP's been on board AMD's ultraportable bandwagon since the chipmaker first shipped the underwhelming Congo platform, and HP continued to produce reasonably compelling not-quite-netbooks with the Athlon/Turion II Neo-equipped Nile platform. But now that AMD has made a concerted effort to dethrone Intel's Atom with Brazos, HP has been able to produce a true netbook competitor. We have the shiny new dm1z equipped with the AMD E-350 in our hands: is this the netbook we've been waiting for?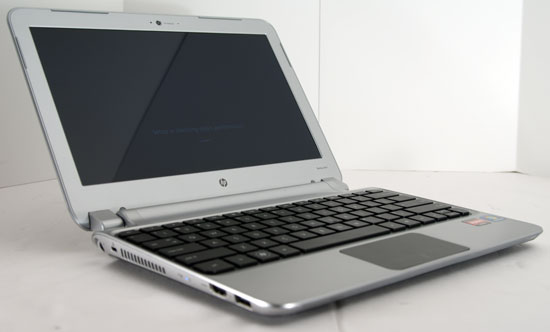 HP has refreshed their dm1 line with AMD's Fusion APUs, but what else does their shiny new netbook bring to the table?
HP dm1z Specifications
Processor
AMD E-350
(2x1.6GHz, 40nm, 1MB L2, 18W)
Chipset
AMD Hudson FCH
Memory
1x2GB DDR3-1333, 1x1GB DDR3-1333 (Max 2x4GB)
Graphics
AMD Radeon HD 6310 IGP
(80 Stream Processors, 500MHz core clock)
Display
11.6" LED Glossy 16:9 1366x768
(AU Optronics B116XW03 Panel)
Hard Drive(s)
320GB 7200 RPM
(Western Digital Scorpio Black)
Optical Drive
-
Networking
Realtek PCIe Gigabit Ethernet
Realtek RT5390 802.11b/g/n
Ralink Motorola BC8 Bluetooth 3.0+HS
Audio
IDT 92HD81B1X HD Audio
Stereo speakers
Headphone+mic jack
Battery
6-Cell, 10.8V, 55Wh battery
Front Side
Altec Lansing speakers
Left Side
AC adapter
Kensington lock
Exhaust vent
Indicator lights
HDMI
USB 2.0
Right Side
SD/MMC reader
Headphone+mic jack
2x USB 2.0
D-SUB
Ethernet jack
Back Side
-
Operating System
Windows 7 Home Premium 64-bit
Dimensions
11.42" x 8.43" x 0.8"-1.2" (WxDxH)
Weight
3.52 lbs
Extras
1.3MP webcam
Flash reader (MMC, SD/Mini SD, MS/Duo/Pro/Pro Duo)
Altec Lansing speakers
Warranty
1-year limited warranty
Pricing
Starting at $449
Priced as configured: $449 (at time of writing)
The most interesting thing about the HP dm1z, right off the bat, is that it's the first netbook we've reviewed to feature AMD's Fusion APU, and HP equips the dm1z standard with the most powerful one in the lineup. The AMD E-350 comes with dual 1.6GHz Bobcat cores, 1MB of L2 cache (no L3), along with a Radeon HD 6310 GPU integrated into the processor die. The HD 6310 is more or less an on-die Radeon HD 5450, with 80 DirectX 11-class stream processors in AMD's VLIW5 configuration and clocked at 500MHz.
The E-350 features a single 64-bit DDR3 memory channel capable of supporting up to two DIMMs for a total of 8GB of RAM. The whole shebang has a TDP rated at 18 watts, which may seem like a lot until you remember the IGP is built into the processor instead of the Northbridge, and instead of having a Northbridge+Southbridge combo as is traditional for AMD, the E-350 requires only the Hudson FCH, a tiny chip that includes just enough SATA, USB, and PCI Express connectivity to get by. Besides, TDP isn't the same thing as actual power requirements—18W looks to be close to the maximum the APU can draw.
Given the small form factor of the dm1z and its intended market, HP is actually fairly generous in its stock configuration. At the time of writing, HP offers a "free upgrade" from the base 2GB of DDR3 and 250GB 7200RPM hard drive to 3GB of DDR3 and a 320GB 7200RPM hard drive; this is the configuration you're most likely to see in retail. The Western Digital Scorpio Black is pretty fast for a mechanical drive, too, so it's nice to see HP step up and offer this 7200RPM drive as standard. Connectivity is handled by Realtek Gigabit and 802.11b/g/n wireless networking along with a Bluetooth 3.0-capable Ralink chipset. About the only complaint we really have on this front is the lack of a separate microphone jack, but that's relatively small potatoes in the grand scheme of things.