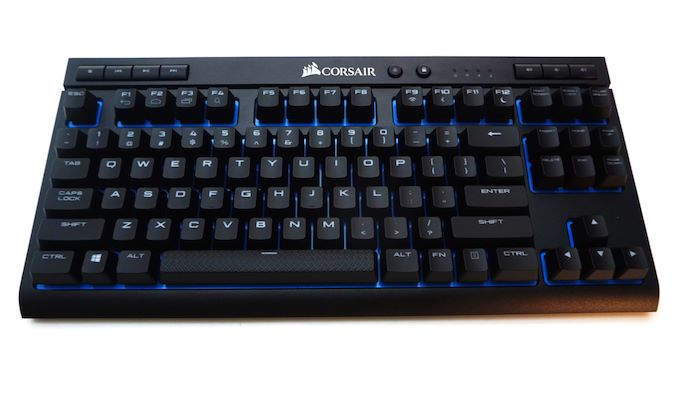 Mechanical keyboards have come to practically dominate the current gaming peripherals market. With hundreds of manufacturers offering myriads of products, almost every user can easily find at least one product that suits their wants and needs. Despite that, there is still a sub-segment of this market that is greatly unexploited – wireless keyboards. There are many trade-offs that impact the feasibility of wireless mechanical keyboards, especially backlit ones. None of those concerns stopped Corsair from releasing the K63, a wireless version of the venerable tenkeyless K65.
Corsair is one of the largest players in today's gaming peripherals market. The company has held several exclusive deals with Cherry, the most reputable manufacturer of mechanical key switches, allowing them to slightly outpace their competition. Today we are taking a look at their first wireless mechanical keyboard, the K63. Derived from the company's popular K65 keyboard, the K63 is intended to be a natural extension of the family, producing a mechanical keyboard that be used in environments where a wired keyboard isn't practical.
Overall, the K63 is not just a wireless keyboard, but is in fact a tri-mode keyboard: it can operate via Bluetooth, over 2.4GHz using an included USB wireless adapter, or it can be plugged in directly to a USB port. A wired fallback option is pretty typical for wireless peripherals, however supporting multiple wireless methods is a bit less orthodox. In the case of Corsair's wireless peripherals, the company has made a habit of supporting both Bluetooth and their own 2.4GHz link as a lower-latency option, and that is once again exactly what they have done for the K63.
Finally, along with the K63 keyboard itself, Corsair also supplied us with their Ironclaw wireless gaming mouse. As a keyboard on its own isn't terribly useful without a mouse, Corsair makes both, and they have provided both for us to be able to evaluate the practicability of a fully wireless gaming desktop.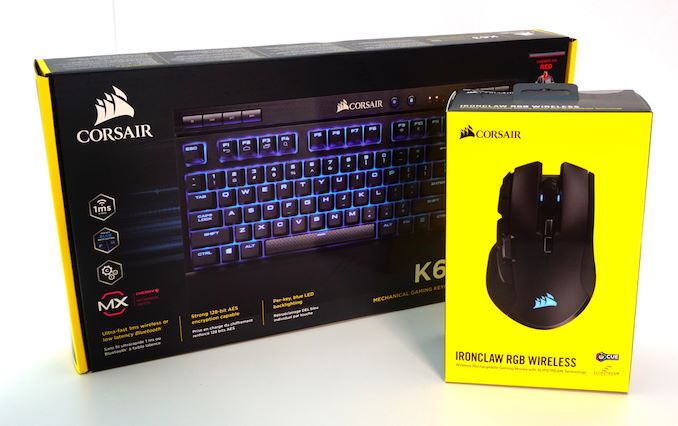 Packaging and Bundle
We received the K63 in a sturdy cardboard box that is covered by a thinner, glossy exterior packaging. The packaging is dark with yellow accents and focused on a picture of the keyboard itself, which has been Corsair's aesthetic trademark for years.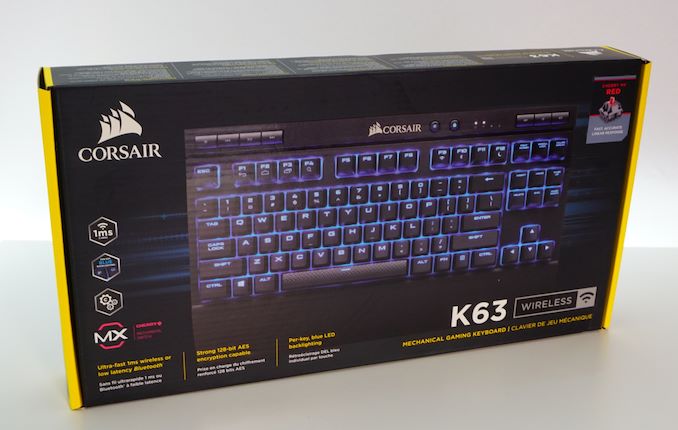 Inside the box we found the typical quick-start guide and warranty leaflets, a detachable micro USB cable, the 2.4GHz USB adapter, and one micro USB-B to USB-A adapter. There is no keycap puller or extra textured keycaps supplied with this model.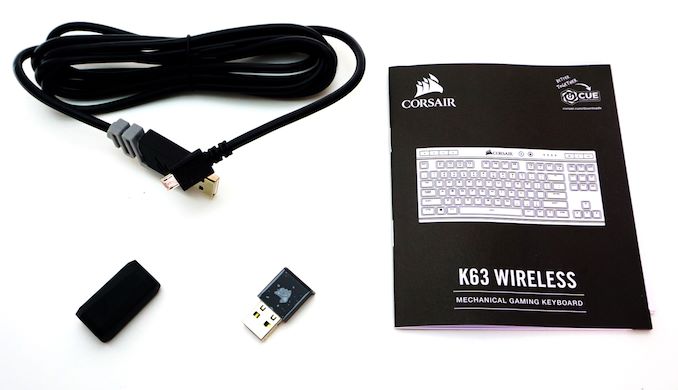 Despite the portability-focused design, Corsair does supply a full wrist rest alongside with the K63. It mimics the excellent wrist rest that we first saw on the K95 RGB Platinum, but it is smaller and the contact surface is not removable. It is soft to the touch and comfortable, yet the friction is great enough to keep a palm from slipping.