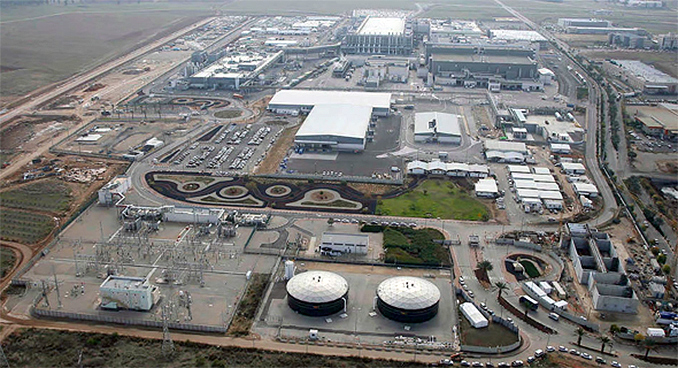 The Finance Committee in Israeli parliament this week approved a grant to Intel to expand its Fab 28 production facility in Kiryat Gat. The decision confirms that Intel's expansion of its factory had been approved by local authorities and the company may proceed with the project.
Under the terms of its investment plan proposed in May 2018, Intel intends to invest $5 billion (NIS 18 billion) in its Kiryat Gat ventures until 2020. The Knesset Finance Committee approved a plan to provide Intel a grant of $185.5 million (NIS 700 million) on the condition that it will hire 250 new employees and spend $560 (NIS 2.1 billion) with local vendors and retailers per annum. The grant was awarded as a part of changes for Israeli national budget for 2018, so the company has already received the money or is about to.
Intel has been expanding its Fab 28 for years now. In 2013 the company acquired Micron's 200-mm fab located adjacent to Intel's Fab 28 (in fact, the facility was initially called Fab 18 and belonged to Intel prior to 2008) and announced plans to convert it to 300 mm wafers, essentially making it a part of its Fab 28 complex. In 2014 the semiconductor giant announced a $6 billion investment plan to prepare its Fab 28 to produce CPUs using its 10 nm process technology. The CPU maker got $450 million (NIS 1.7 billion) in state grands from Israel as a part of this project and reduced corporate tax rate of 5% (vs. standard 23%). The company's new Fab 28 production lines that went online in late 2016 are currently using Intel's 14nm process and it is unclear whether the facility is ready for 10 nm or not.
The new $5 billion plan for Fab 28 is a part of Intel's recently announced intention to expand manufacturing capacities globally. Under the terms of this plan, Intel will equip its Fab 42 for its 7 nm process technology, expand and upgrade its fab in Ireland, and add fab space to its Oregon plant.
Related Reading:
Sources: CalcalisTech, Times of Israel, Haaretz/TechNation
Image Source: CalcalisTech